IDBI Federal Life Insurance Kolkata Full Marathon is known for it's flat and fast course. The race starts and finishes in Rangers Maidan, Red Road, and travels through one of the country's most magnificent structures.
The course has produced many successful runners, several national records and countless personal bests. Runners enjoy the support of city spectators as they run through the neighbourhoods.
FULL MARATHON / HALF MARATHON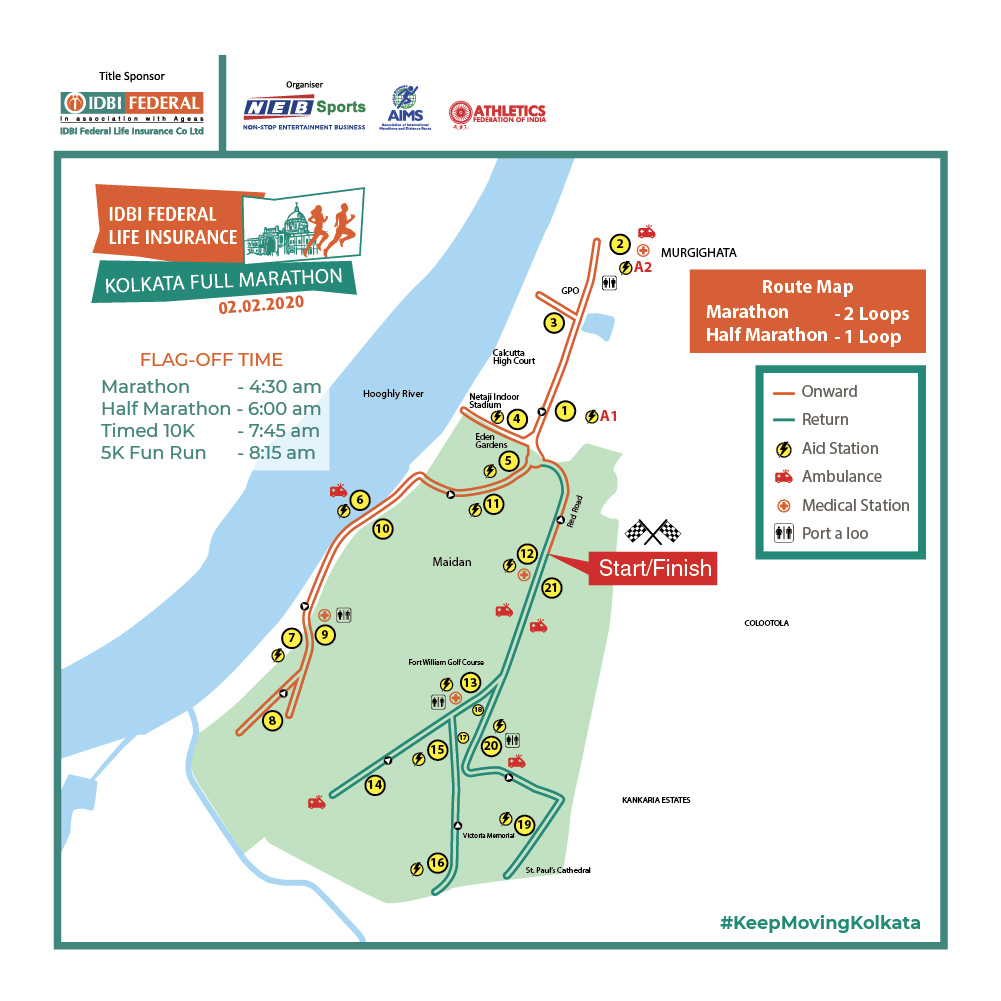 TIMED 10K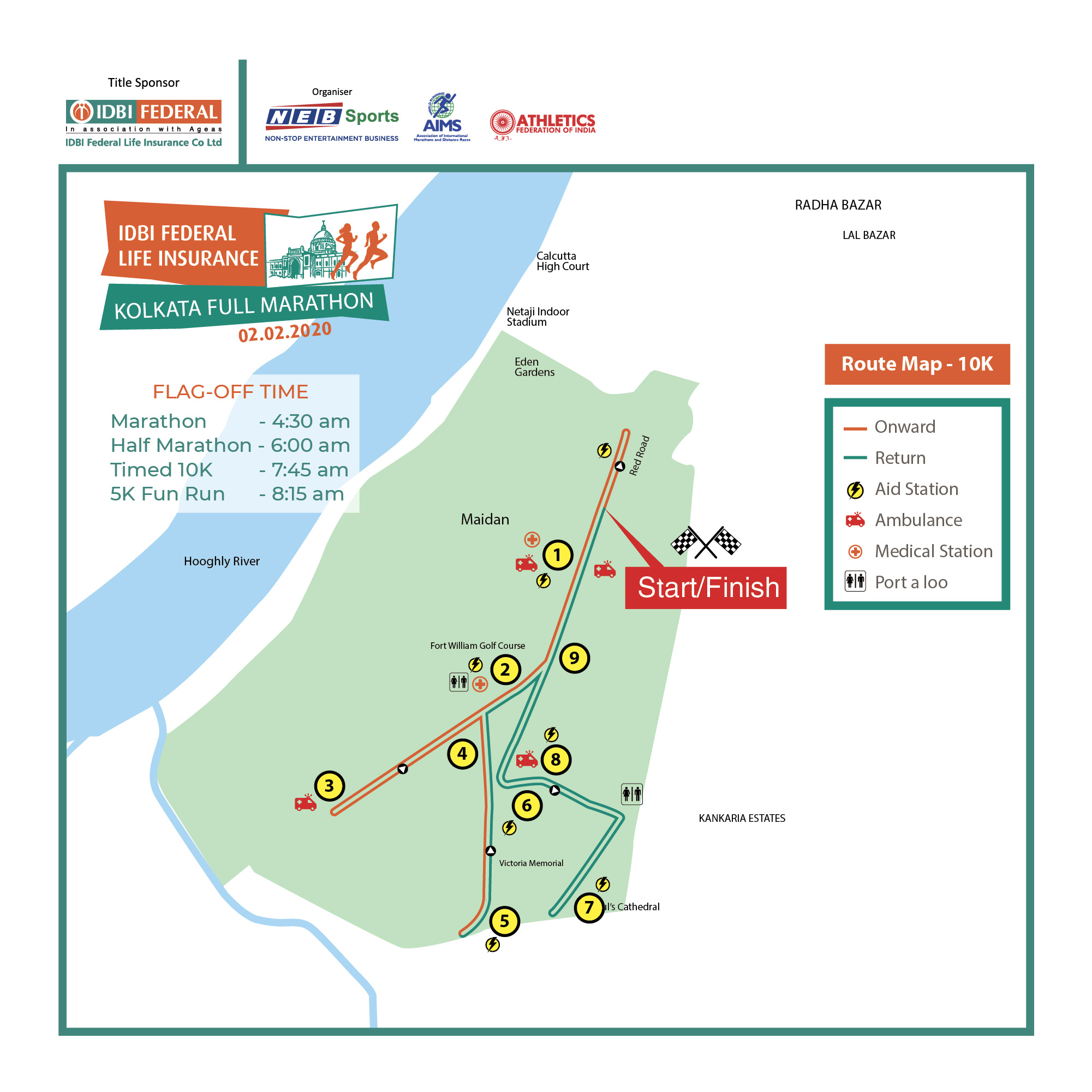 5K Fun Run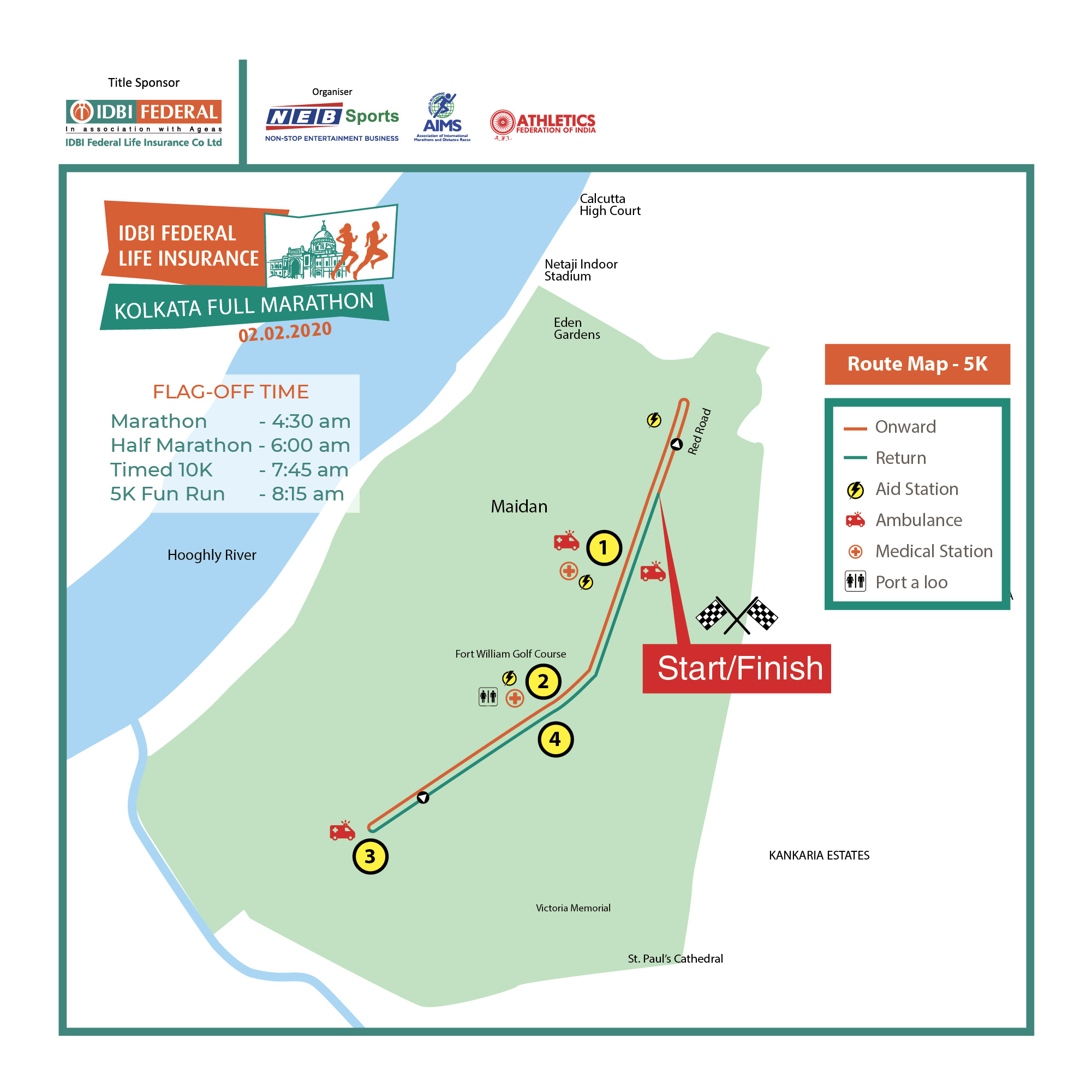 | | |
| --- | --- |
| Date | Time |
| 1st February 2020 | 10:30 AM to 5:30 PM |
Water Stations & Aid Stations
14 water and aid stations are located along the race route at every kilometre, in addition to the base water/aid station at the start/finish line.

Each aid station consists of the following amenities in this order:
Water
Volunteer Support
Fast & Up Energy Drink
Fresh Fruits – Bananas, Orange
Salt
Jaggery
Pain Relief Sprays
First Aid Kit
Volunteer Support
Fast & Up Energy Drink will be available in Berry flavour at every Aid Station. One serving of Fast & Up Energy Drink, i.e. approximately 100ml of the drink served at our Aid Stations provides (approximately) 1.51 grams of carbohydrates, 0.014 grams of protein, 6.13 kilo calories of energy, 90 mg of sodium and 80 calories.
You may apply the Pain Relief Spray to alleviate soreness and help you to take on the final miles of the route. Volunteers will be at the Aid Stations to administer the product on participants. Please seek help from the volunteers and DO NOT administer the spray yourselves.
Familiarise yourselves with the locations and offerings at each aid station and prepare for slower traffic in these areas. The aid stations are approximately 6x18 in area; tables with Fast 'n Up Energy Drink and water line both sides of the street. Continue moving through the aid station if the first tables are too crowded to obtain fluids.
Medical Facilities
Medical support is available at four points on the route location, in addition to the base medical station at the finish line. In addition to these, the ten (05 ACLS and 05 BLS) ambulances are indicated with the medical icon, on the route and in the venue.
Each medical station is staffed by a team of medical professionals, is equipped with emergency and first aid supplies and has access to ambulance service (both, Basic Life Support and Advanced Cardiac Life Support). In addition to these, there will also be media medical personnel on bikes throughout the race route.
At the Venue, the Main Medical and the Physiotherapy Tents are located directly beyond the finish line. For the safety of all participants, only those requiring medical assistance may access the medical and physio facilities.
Course Time
IDBI Federal Life Insurance Kolkata Full Marathon has a course time limit of 6 hours. After this time, the course will re-open to vehicular traffic. You must maintain a strategised and constant pace to complete your race distance—start line to finish line—within the event time requirement. Those who finish outside of the time limit will be recorded as official finishers, but may not receive full on-course support from aid stations and traffic safety personnel. However, the organisers will usually be present to make sure the last finishers are received at the finish line.
Clocks and KM Markers
Timing checkpoints are positioned at the start / finish line, and at about seven other checkpoints, approximately. Your Bib-Tag timing device will register split times at each of these checkpoints.
Digital clocks are positioned at the start / finish line, on the lead car on the course to provide the elapsed race time. Kilometre markers are positioned at each kilometre to assist you in locating the clocks. Digital clocks at the finish line will display the elapsed race time, which begins with the start of Marathon (4:30 am). Your individual race time may differ depending on when you cross the official start line.
Road Closures
For residents who live along the IDBI Federal Life Insurance Kolkata Full Marathon course, and for those traveling to and from Kolkata on the Race Day, please be aware that extensive street closures will take place on race day. In addition, no parking zones along the course will be enforced in the early morning hours. Street closure information will be available in advance of the event.
Pacers
This fabulous group of runners will be on the course to make sure all you runners reach that finish-line happy and content. Choose your Pacer Bus wisely, based on your training, and make sure you meet them at the EXPO.
Marathon
| | |
| --- | --- |
| TIME | NAMES |
| 04:30 | Sourav Kashyap |
| 05:00 | Samudrajeet Ghosh |
| 05:30 | Subrata Mondal |
| 06:00 | Govindarajan Krishnan |
Half Marathon
| | |
| --- | --- |
| TIME | NAMES |
| 02:00 | Sanjay Mittal |
| 02:15 | Vaibhav Pandya |
| 02:30 | Soumen Chatterjee |
| 02:45 | Jaj Chatterjee |
| 03:00 | Shraddha Mehta |
10K Timed Run
| | |
| --- | --- |
| TIME | NAMES |
| 55 | Anup Mohanta |
| 60 | Tapas Bannerjee |
| 65 | Abi Pareek |
| 70 | Shivaji Patni |
| 75 | Rajesh Saraf |
| 80 | Shew Chowdhury |
Warm-Up and Cool-Down
Each race category is will be preceded by stretches and warm-up for all the participants. Whether you are prepared are not, we suggest all participants to take these warm-up sessions by the professionals to give a good head-start to the race. Similarly, cooling down your own post-race body and mind is also equally important. Do make sure you attend the cool-down sessions too.
Event Schedule
Venue - Rangers Maidan, Red Road, Kolkata
Event Schedule
Category
Start Time
Marathon
4:30 am
Half Marathon
6:00 am
Timed 10K
7:45 am
5K Fun Run
8:15 am
Reporting time : 1 hour prior to the respective race time.
Parking
(Will be shared closer to the Event Date)
Prize Distribution
The Prize Distribution for the Elite Athletes will happen before the 5K Fun Run flag-off.
The Prize Distribution for the Amateur Participants will happen after the 5K Fun Run flag-off.
The winners will be felicitated on the podium with winner medals and dummy cheques.
The prize money will take 45-60 working days to reflect in the winner's bank account.